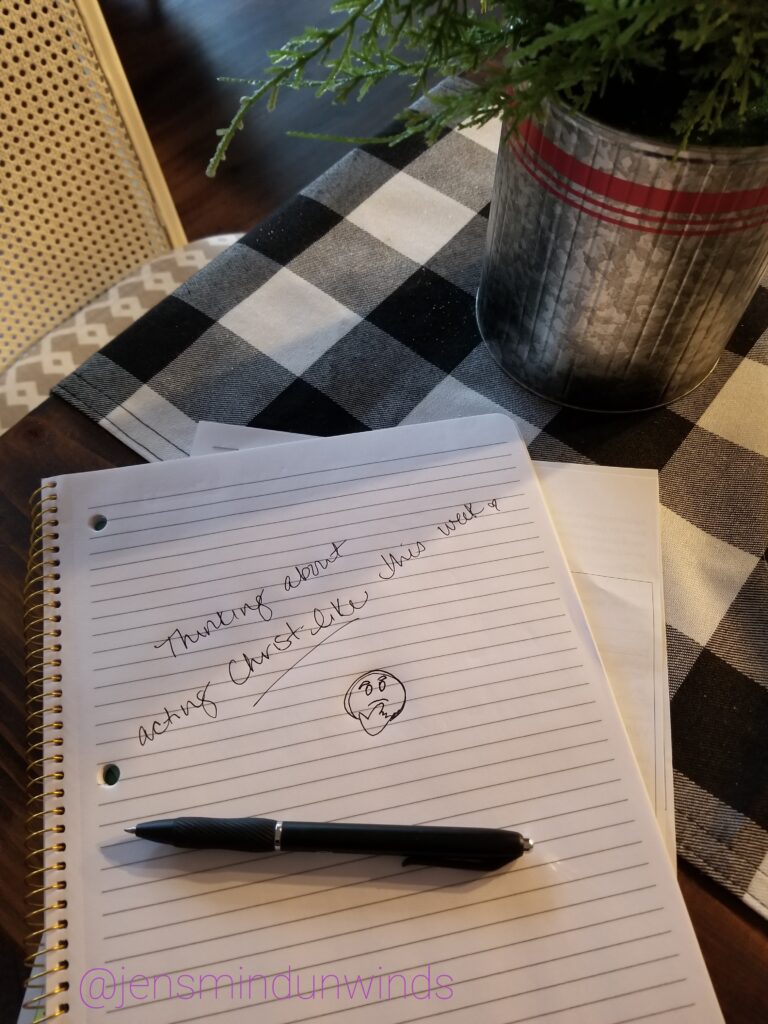 What is a Christian? The dictionary says a Christian is someone relating to or professing Christianity or its teachings; or a person who has received Christian baptism, or is a believer in Christianity. Some would say a Christian is a religious person or worse
. I would say a Christian is a person who is Christlike or like Christ and makes an effort with the Holy Spirit to live that out daily.
Based on my description, I'd like to take today to focus on that last half – living it out daily. My challenge to all you who call yourselves Christians is this: BE ONE – for just one week. My challenge to the rest of you – hold us to it. I'd like to ask you to be a Christian for just one week by tithing, telling one person about Jesus and what He's done for you, inviting someone to church this Sunday, extending grace to ALL you encounter this week, and praying for revival in our church and our country every day this week.
The reason I chose these specific things is because although they're the "norm" for Christ followers, you'd be surprised how many of us don't do a lick of these with any rate of consistency yet still claim to follow Him wholeheartedly. 
Why are they the norm?
So, what makes these exercises the norm anyway? Well Christians are to obey the bible and act as Christ would. It would take a few blog articles to explain all the ins and outs of that (so feel free to ask me any questions in the comments) but to list them out promptly:  tithing is a staple because we're commanded to in the word. I also wrote about tithing briefly here and more thoroughly in As My Mind Unwinds. Sharing about Christ and inviting others to church is a staple because of the Great Commission.  Next, grace is the greatest thing lacking in today's culture of Christianity – just look at all the politics worshippers and gay haters – yet is supposed to be the thing along with love that makes us known. Lastly, how can you follow Christ and not pray daily with repentant hearts asking Christ to come by His Holy Spirit and turn us all upside down? So, here I am challenging us all, myself included, to walk the talk for just one week. 
What Could it Look Like?
For all you who appreciate a more concrete, practical application rather than being left to your own devices, I imagine it could look something like this:
Day one – put a reminder in your phones on pay day to write a check or hit the giving page on the church website and pay 10% of what just got deposited in the bank.
Day two – tell someone, anyone what I know of Jesus and/or how His love has played out in my life. It can be a family member, a neighbor, some stranger from one of the groups you're part of on FaceBook! Just do it! Embrace the awkward! Look for an opportunity to reply with what you want to share to someone else's thoughts, or make a post just bluntly sharing them on your profile, or ask your neighbor to coffee and just be like "okay, this may be weird to you but I just gotta say some stuff for a minute. You game?" Don't over complicate it!
Day three – invite someone to church whether in person or online. Hey, hit the blue 'online' word I just typed in the previous sentence – that's me inviting you to my church this Sunday if you're looking for a place to go. You'd be AMAZED at how many people are waiting and wondering if they'll ever be invited.
Day four – this should really be from the get go for day one and carry all week (and hopefully forever more) but make a conscious and concerted effort to give grace to all. This includes the republican or democrat you can't stand, the person who had an abortion, the LGBTQ people you know, and in my case, the Christians who embarrass the rest of us and give Christ a bad name.
Day five – pray for repentance and revival. Repent for yourself, your family, your church, other Christians and your country. Plead for the Holy Spirit to make Himself so real and tangible to all. Beg God for a spiritual awakening and shaking! Do it again on day six and day seven.
At the end of the week, take inventory of what happened inside of you, and what happened around you. Take your findings to God and ask Him what you do with this new found information or questions (should you have them) as you move forward. Hey, I'd be delighted if you'd revisit this article and comment below with what you know or seek to know now that you've completed the challenge.
Anyone wanna take the challenge with me? Let's be who we say we are for just one week and see how it goes.