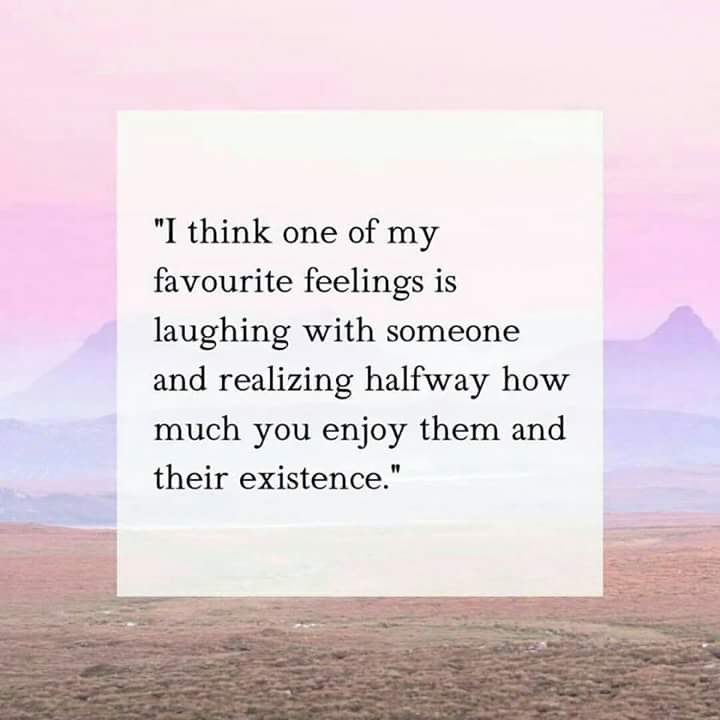 One of my favorite quotes right now is found on Pinterest in the fashion of a meme: "I think one of my favorite feelings is laughing with someone and realizing half way through how much you enjoy them and their existence." It's such a perfect picture of how I enjoy others in my life – especially God. Laugh with God? Why yes! I laugh with Him, rest in Him, talk to Him – which can often turn back to laughing with HIm. I enjoy Him very much!
Why does the concept of enjoying God seem so weird to us? I mean – that's exactly the purpose of going to heaven eventually. It's everything we're working and living for. So, why not start now?
Surely you have people in your life that you enjoy. When you say you enjoy someone what do you mean? Do you enjoy their personality? Their love? Their friendship? Their humor? Their magnificent mind? Perhaps all of that! This is how we enjoy God as well! I think what trips us up on enjoying God is we sometimes don't fully grasp that He's a person. He's not an idea or a concept. He's real! He is the reality of all eternity and He's meant to be enjoyed!
Rejoice in the Lord always and again I say rejoice (Phillippians 4:4-8). A quick google search for the definition of rejoice yields "feel or show great joy or delight". I enjoy God. I enjoy His creativity, His gifts, and His stability – plus so much more!
His Creativity
I know many of us enjoy the artistic expression, individual talent, and great minds of others. There are musicians we follow and download all of their music. There are the great artists of all time that move us to emotions we don't even recognize inside ourselves. There are authors that just seem to "get us" with everything they write.
I enjoy God's creativity as well. I enjoy all of nature around me. I'm constantly in awe of trees, flowers, mountains, the sky, the ocean – all of it! I enjoy how He created you and I as well! I love the unique features of all our faces and personalities. I even love to see the talent that comes out of each of us as it's ultimately from Him! And guess what? Enjoying your talent is actually me enjoying God Himself because I recognize the source! His creativity and all its many expressions is a true gift!
His Gifts
Speaking of gifts, God is the best gift giver. My love language is giving and receiving gifts which may be why I purposely point out this aspect of how I enjoy God. God gives us talents, happy surprises throughout life that are our heart's desires and the ultimate gift of salvation! James 1:17 tells us "every good and perfect gift is from above, coming down from the Father of the heavenly lights, who does not change like shifting shadows". This truth makes me very aware that any and every good thing comes from God – all of it. I'm so thankful for that and I enjoy it immensely. 
His Stability
The last part of that previous verse says "who does not change like shifting shadows." In a world as crazy and unpredictable as this one, I surely do enjoy that about God as well. Numbers 23:19 says He's not a man who should change His mind. He is who He says He is. Psalms 18:30 says His word is flawless. I can count on Him. He will never forsake me. He will never lie to me or abandon me. He is stable. I enjoy His steadfastness.
There are so many more reasons why and how I enjoy God. So, when I read commands and experiences like the following, enjoying God makes sense and is almost effortless because I'm so in love with Him!
How would you express your enjoyment of God to someone today?